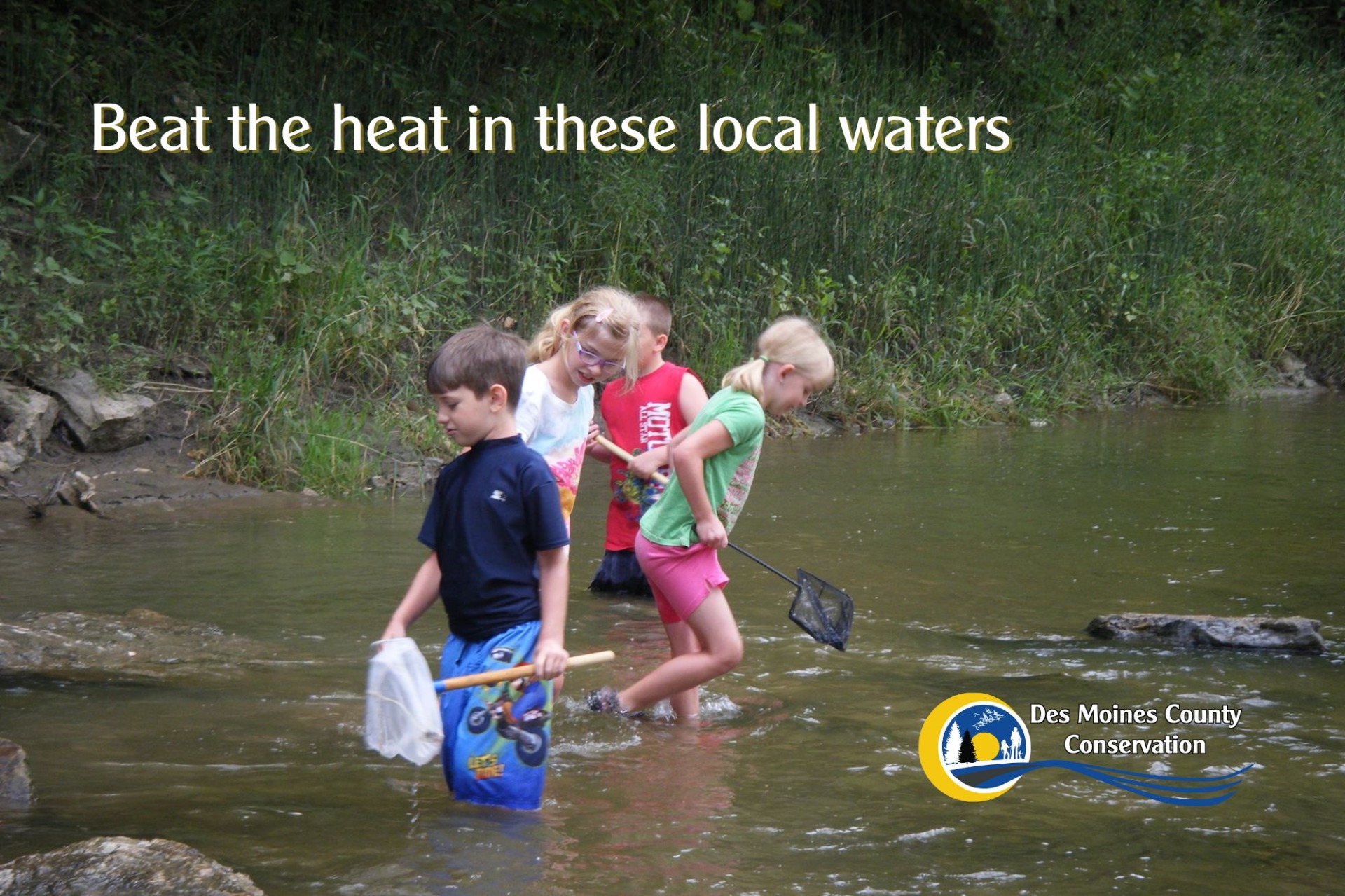 Beat the heat at these local waters
It's the peak of summer. It's hot. It's sunny. It's the perfect time to go out and play in or on the water. Here are some of the best county parks in the area to float, paddle, splash, or swim.
Chris Lee, Executive Director
Float
The Skunk River is surprisingly underutilized as a float trip destination. In a normal summer, you can touch bottom across most of the river, making it a relatively safe, albeit quite slow, river float.
Round up some friends and floaties and put it at the Cottonwood Loop boat ramp upstream of Augusta off Skunk River Road and float down to the campground at Sycamore Loop. Bring plenty of sunscreen as there is precious little shade on that route. And take care coming out of the water. The riverbank at the campground is pretty steep and rocky.
Pro tip: When going out on the water, always tell someone where you're going, what route you're taking, and when you plan to be back. We've been called in to rescue more than a few groups that underestimated the time it would take to reach their takeout destination.
Paddle
The Skunk River is also a great destination for canoeing and kayaking, and paddlers are less dependent on flowing water, making the excursion a bit more predictable timing-wise. At normal low-water summer levels, you can expect an easy paddle to propel you along at about 4-5 miles per hour. The distance from Cottonwood Loop Boat Ramp on Skunk River Road to Lee County's Indian Path Park on Highway 61 is just over nine river miles, making that a perfect half-day trip by the time you count in transport, shuttling, and put-in and take-out. There is no boat ramp there at Indian Path so expect to have to deal with some mud and slippery banks there. But if you're up for a day-long paddle, go all the way to Lee County's boat ramp in Green Bay Bottoms.
Another half-day option is to put in at Stephenson Park in Lowell and take out at Cottonwood Loop boat ramp.
Other paddling destinations in the area include the Iowa River between Wapello and Oakville and Lake Odessa in Louisa County, both of which are designated water trails. Other lakes include Big Hollow Lake west of Sperry, and Pollmiller Lake in Lee County. You can rent canoes and kayaks at both Big Hollow and Pollmiller.
Splash
Immensely popular with families, wading, splashing, and exploring Flint Creek at Starr's Cave Nature Center is definitely a summertime favorite. You never know what kind of critters you'll find, and the cool, shallow water is refreshing on summer days. There are stairs that take you right into the water and the tall trees and limestone bluffs keep the creek corridor shaded for most of the day. Just remember that Starr's Cave is a state preserve meaning that it's illegal to take anything from within so leave nature where you found it. Take nothing but pictures, leave nothing but footprints.
The Nature Center is open from noon until 4:00 PM on weekends so time your trip so you can check out the displays and live animals inside before stomping in the creek.
Swim
Nothing says summer like sand between your toes and the beaches at Big Hollow Lake here in Des Moines County and at Pollmiller Lake in Lee County are the go-to places for sunseekers and sand castle constructors. Big Hollow's free beach is open daily until 8:00 PM and Pollmiller's is open Wednesday through Sunday from noon until 7:00 pm with a daily admission fee of $2.00. There is also a concession stand at Pollmiller in addition to the aforementioned boat rentals.
While it's true that Iowa's water quality is not exactly stellar, the state keeps tabs on beaches to make sure there are no health issues related to designated swim areas. Most state and county beaches take weekly water samples which are then analyzed and posted online. You can see the results on the Iowa DNR's website. Just search "Iowa DNR Beach Monitoring" and it'll probably be the top link.
Yeah, it's hot, but that's no excuse to stay in the AC doomscrolling on socials. Head out to your local beach, lake or river and spend some time on or in the water out in nature. In the course of a year, there really aren't that many months where you can reliably play in the water. Make the most of it while you can. You'll be glad you did.
published Friday, July 14, 2023
More Blogs