Location
512 N. Main St.
Burlington, IA 52601
Driving Directions
Contact Information
319-753-8212
319-754-6910 (Fax)
DMCSheriff@dmcounty.com or so-clerical@dmcounty.com
Hours
Monday - Friday
8:00 a.m. to 4:30 p.m.
Holiday Closures
Our Team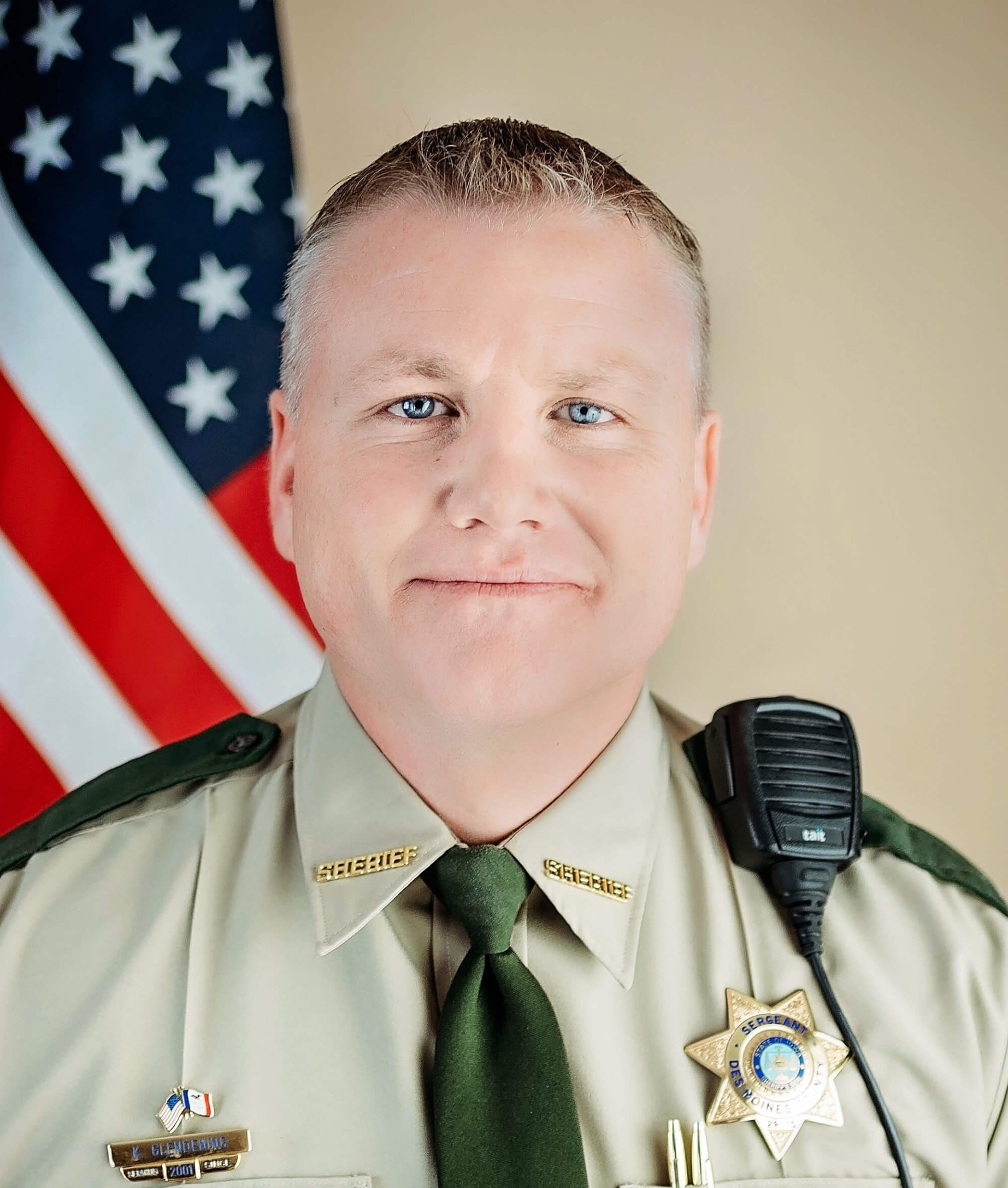 Kevin Glendening
Sheriff
Chad McCune
Chief Deputy
Sheriff & Jail
Mission Statement
The fundamental duty and ultimate mission of the Des Moines County Sheriff's Office is to serve and protect the citizens of Des Moines County with fairness, compassion, and respect. We demand excellence in our law enforcement personnel, stressing professionalism, integrity, and timeliness, so that the citizens we serve may feel safe and secure within the boundaries of our county. We promote the setting of goals in partnership with our community and prioritize and address problems based on the concerns of our citizens. The enforcement of the law and the protection we provide shall always be without favor or prejudice. We are committed to providing peace, safety, and justice for our citizens.
About Our Office
The Des Moines County Sheriff's Office provides law enforcement and support services to all of Des Moines County. With a staff of 75 employees, 24 of which are full-time law enforcement officers, the Sheriff is the primary provider of patrol and investigative operations in the unincorporated areas of Des Moines County, as well as within the three incorporated towns of Mediapolis, Danville, and Middletown, which have contracted with the Des Moines County Sheriff's Office to provide law enforcement services.
The Sheriff is responsible for providing for the custody and care of inmates at the Des Moines County Correctional Center. The Correctional Center houses 80 inmates with a staff of 23 full-time Correctional Officers, 2 transport officers, a full-time dietary manager and part-time kitchen staff, as well as an administrative staff to manage the daily operations.
Additional duties and responsibilities of the Sheriff's Office include maintaining and proactively investigating the Sex Offender Registry, executing and returning legal and civil papers, issuance of weapons permits, and providing security to the Des Moines County Courthouse.
---
Map & Directions