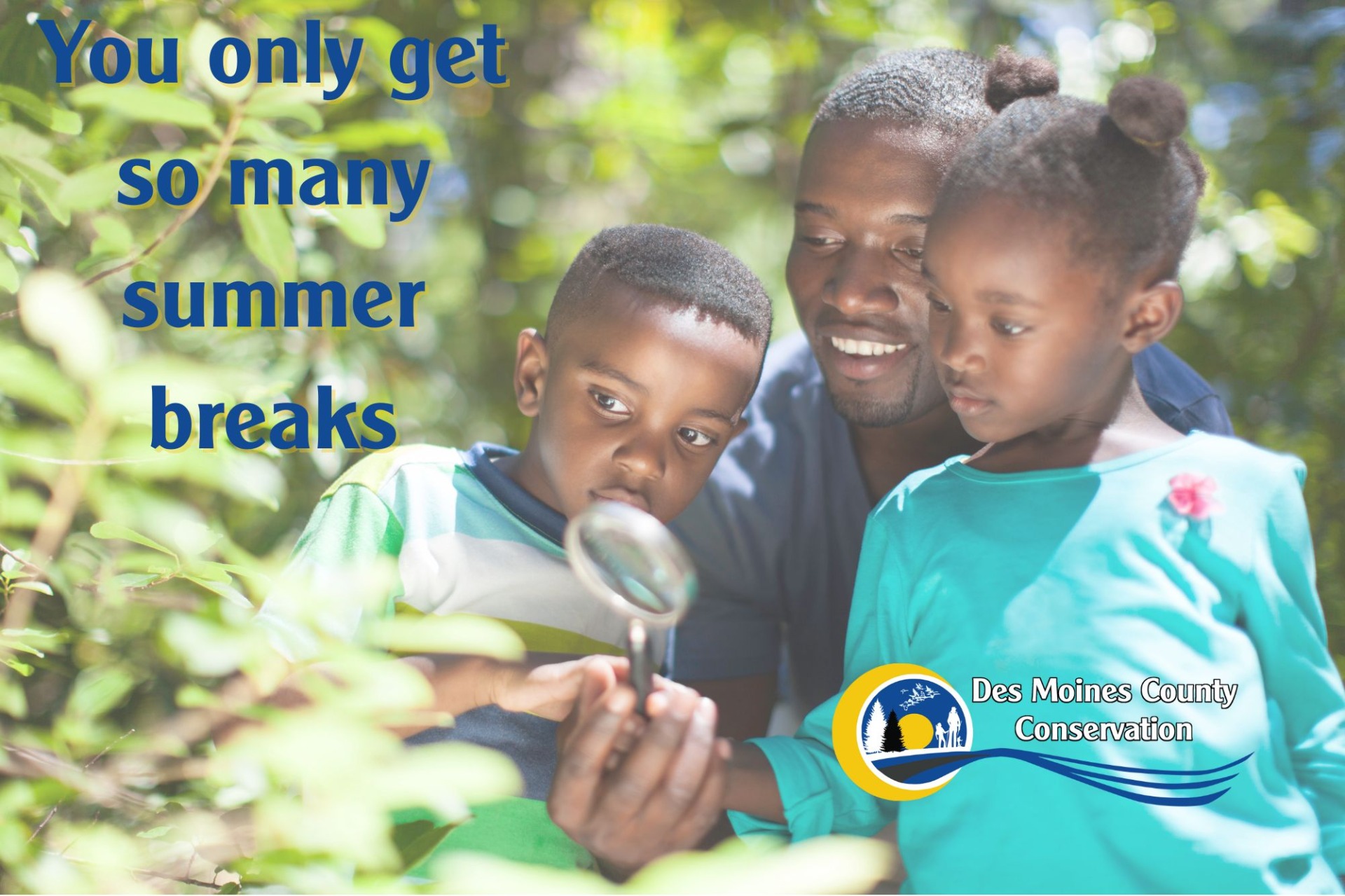 You only get so many summer breaks...
Nobody ever gave a commencement speech saying they wished they'd played more video games
Chris Lee, Executive Director
Summer break is almost upon us. Where will you go with the kids in the coming weeks? What parks will you visit? What stories will your kids tell when they return to school?
My oldest is finishing second grade this year. That leaves us with ten summer breaks left before she finishes high school. Subtract a couple for the likelihood of summer jobs after she starts driving. We don't have much time left.
"But I don't know if I can keep the kids occupied and interested long enough outdoors."
There's plenty out there to keep the interest in even the most distractable youngster. In fact, studies show that exposure to nature actually helps kids focus. Maybe a trip to the woods before finals week would even be warranted.
We're all aware of Sir Isaac Newton's apple, but let's not forget he had to be outside under an apple tree to have that gravitational epiphany in the first place.
And so what if your kids are perpetually distracted? That's the point of being outside. Distraction is only the following of one's curiosity when others say you should be doing something else. In the outdoors, we call it exploration.
In our community, great places for outdoor exploration are the bigger parks with a mix of developed and natural areas. Crapo and Dankwardt Parks in Burlington, Big Hollow Recreation Area a short drive north of Burlington, and Lake Geode State Park a short drive west, just to name a few. These parks offer playgrounds for the traditional outdoor play activities, but also spots to fish, trails to hike, and woods to explore.
"Oh, my kids won't go in the woods."
Is it the kids or the parents that aren't keen on exploring woods? It's generally our experience that, given the opportunity, most pre-adolescent kids will happily take to a forest. It's the parents that aren't so sure. Kids reflect and adopt the fears of the parent. We have to get past that.
Here's how.
Go to a park with trails through wooded areas, like those listed above. Start hiking but turn your attention to what's off the trail, not what lies ahead. Make a scavenger hunt out of it. I led a field trip one time where, as we hiked, we found things of different colors. We stopped and looked closely at some of what we found. By the time we reached the end of the trail, we had covered every color of the rainbow.
And no, you don't have to know what everything is. Half the fun of family exploration is learning about things together. And of course, there are apps for everything. One of my favorites is called Seek, by iNaturalist. Using the camera on your smartphone, it will identify just about any plant or animal you find out there. Then it provides links to information about what you found.
What do you put on a scavenger hunt list when you're not sure what you'll find out there? Colors. Shapes. Specific letters. Like: find three plants that start with the letter S. Or find every color of the rainbow (remember ROYGBIV?).
For the artists in the family, bring paper and pencils or crayons and do leaf rubbings. Or have them draw something they see or find. Or use the smartphone to get the perfect photograph to share online. This is a perfect opportunity to explore the details of the world. By this I mean going from seeing the bigger picture – the landscape, the forest, the "scene" – to going down to the micro – the texture of tree bark, the veins on a leaf, the little ecosystem that exists on the soil surface under the leaf litter or at the base of the grass.
For that last one, you'll have to get down on the ground, but you'll probably be surprised at how much you find in a couple-inch circle. I never cease to be amazed at what's going on below our feet at any given time.
This is especially fun to do in a prairie, where you can lay down and see the world from a rabbit's perspective. The tall grass overhead, the endless paths weaving between the bases of the plants, the coolness of the ground in contrast with the warm air at human head height. Actually, one can – and should – take a rabbit's view about anywhere, so long as you're willing to lay down.
When exploring or being rabbits gets old, hike a little further and find a creek to explore. Crapo Park has some great ones, as does Starr's Cave Park and Preserve. Lots of fossils to find at both places.
Now, we haven't even covered fishing (now's a great time to catch fish in local lakes and ponds), biking (there are several trails to choose from around here, including the Flint River Trail), paddling (you can rent kayaks at Big Hollow), picnicking (pack your own or just get carryout to eat in the park), or campfires (several local parks have fire rings – often with shelter houses – where you can have a fire and roast s'mores even if you don't camp there). So much to do, so little summer to do it.
Don't squander what few summer breaks you have left. Make a habit of going outside. Give kids great stories to tell in August. Besides, nobody ever gave a commencement speech saying they wished they'd played more video games.
published Friday, May 12, 2023
More Blogs