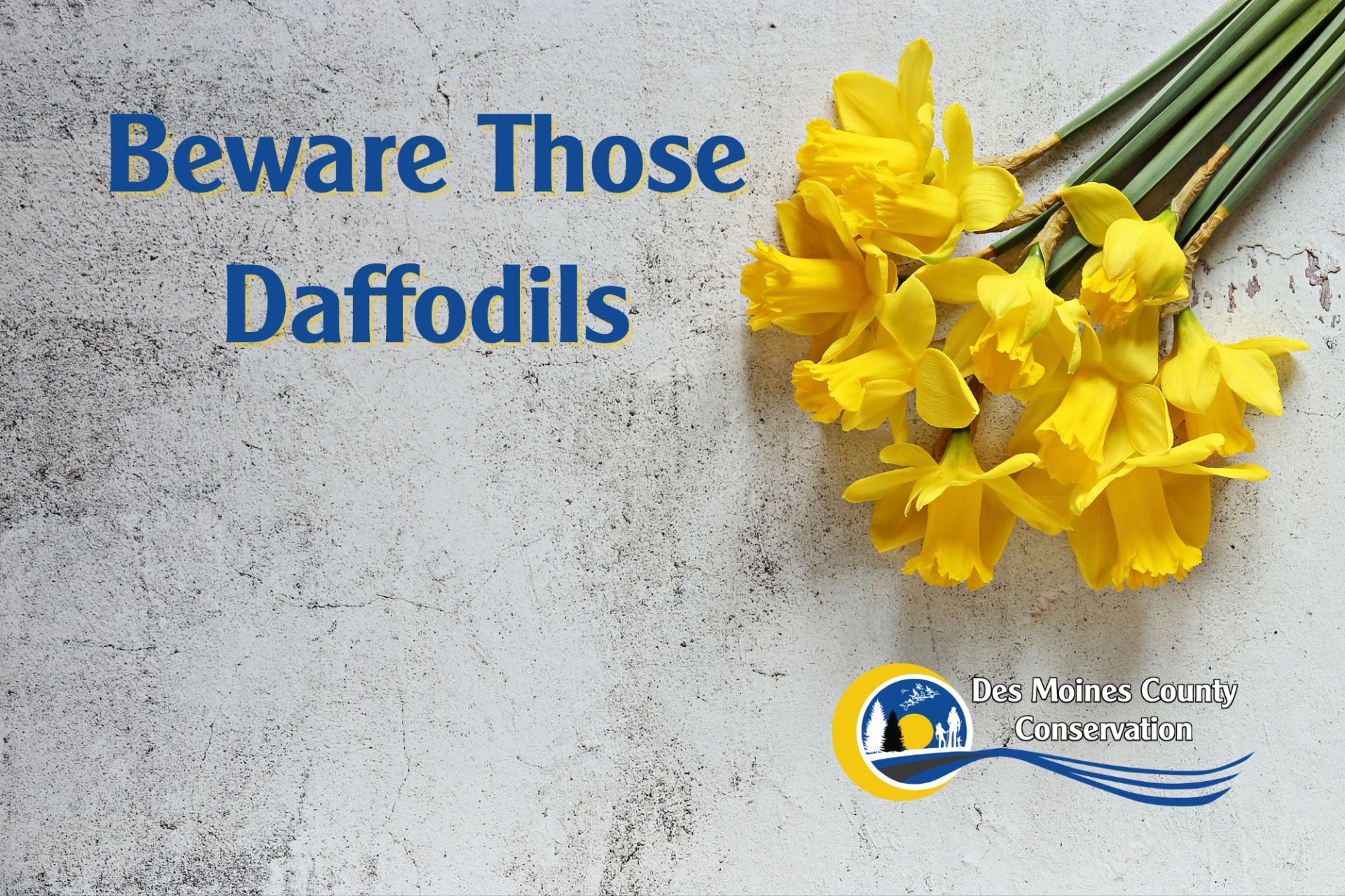 Beware those daffodils
Anybody who says, "I'm bored" now should be throttled with a large bundle of daffodils. So in the interest of flower protection, here's some of what you can do in the coming weeks to get outside.
Chris Lee, Executive Director
At long last, it's that time of the year again when Mother Nature puts on her floral dress and starts playing peekaboo with the sunshine. It's springtime. The daffodils are in full bloom, the pollen counts are rising, and the birds are twittering more than Elon Musk.
If you got that last one, it's a clear indication it's time to put the phone down and go outdoors.
And don't tell me there's nothing to do. I can tolerate some "I'm bored" during the doldrums of winter when it's dark outside during both daily commutes, but not anymore. Anybody who says that now should be throttled with a large bundle of daffodils.
In the interest of flower protection, here's some of what you can do in the coming weeks to get outside.
First and foremost, it's spring cleaning time, both for your garage and our community. I hope to see everyone out and about on Saturday, April 22 for the city-wide Earth Day Cleanup event. Join in the festivities down at the Port of Burlington starting at 8:00 AM. Get your supplies and head out to shine up your neighborhood or road corridor of choice. Re-join the community at noon for lunch and trading of found treasure stories.
In the meantime, lace up the walking shoes or hiking boots and put on some miles. Whether it's a short walk around your neighborhood or a forest-bathing hike on your favorite local trail, a good stroll is just what the doctor ordered to soak up some sun, get the resulting hit of Vitamin D, and maybe even start shedding some of the winter weight we tend to pack on from holiday feasts and cold-night comfort food.
Des Moines County Conservation's next "Hike A Park" program is April 27 at 3:00 PM at Hunt Woods just south of Burlington. This 50+ acre park is a forest management demonstration area so you'll get to see various stages of forest management as you hike.
It's also fishing time, and it will soon be paddling and boating time, so while you're doing that spring cleaning, be sure to clean and inspect your life jackets. Do they still fit? Kids grow fast, so last year's jackets might no longer be the right size. Are there any rips or wears in the fabric or frays in the straps? If so, it's time to replace. Life jackets can be cleaned with hot, soapy water. Don't use bleach or harsh cleaning solvents. Allow them to dry fully before stowing them again to prevent mold.
Did someone say fishing? A fifteen-minute-or-less car ride gets you and the family to Big Hollow Recreation Area near Sperry. In addition to the big lake, there are several smaller ponds throughout the county's largest park. In town, kids can also fish Lake Starker in Crapo Park in Burlington. And the fish in Lake Geode should be reaching catchable size now. But take note that the beach and road to it at Lake Geode are closed for construction this year.
Speaking of kids, the signup for summer camps at Starr's Cave Nature Center will open at noon on April 25. Registration is done online and the link will be posted on the nature center's Facebook page when it goes live. There are camps available for youth ages 3 through 13 with various camp dates from June to August.
And speaking of boating, now is also a good time to get the boat, canoe, or kayak out of storage, cleaned up and prepped for the season. Is your registration up to date? Are the seats still tight? Are the paddles in good shape? Does the motor need a tune up? With the warm temps, now might be a good time for a test run. That way, if something does need fixed, you'll hopefully have time to get it in to the shop before full summer boating season.
I'd be remiss if I didn't implore the bike owners to take to the trails as well. Our county has several great bike routes including a couple sections of the Flint River Trail – one along the river in Burlington and one from Flint Bottom Road up to Big Hollow. For the more adventurous cyclists, there's a rather extensive singletrack trail called North Gorge just across the road from Flint Hills Golf Course. This volunteer-built and managed trail zigzags up and down the steep bluffs overlooking the Flint Creek floodplain at the Leopold Recreation Area. While some sections are fit for the casual rider, there are segments complete with hairpin turns and jumps that only experienced riders should tackle.
So whether it's an afternoon stroll, a community cleanup, or a white-knuckle ride on gravity-defying singletrack, there's something for everyone to do outdoors in our community now that spring is in full swing. Daffodils optional.
I hope to see you out there.
published Friday, April 14, 2023
More Blogs