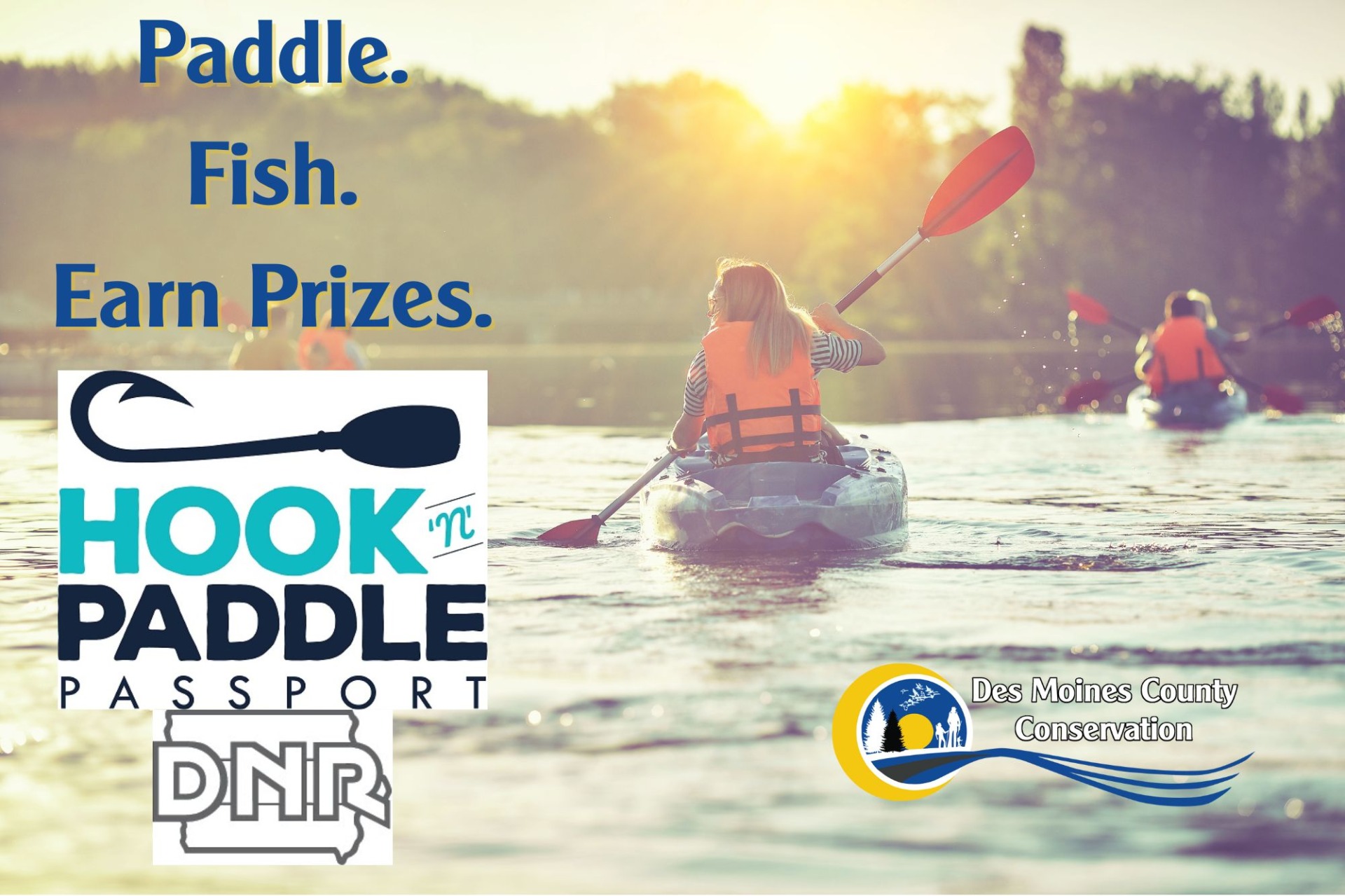 Paddle. Fish. Earn Prizes
Earn points this summer for paddling and fishing on Iowa's waters via Iowa DNR's Hook n' Paddle Passport. Redeem points for prizes. Score!
Chris Lee, Executive Director
Somewhere around 1994 I gave up what was probably going to be a lucrative baseball career. I was 12 and in my second year of Little League. But I decided that all of those games and practices simply got in the way of all the fishing I wanted to do. So I quit and went fishing.
Actually, baseball was never going to pan out for me. I wasn't good. Nor was I very competitive. But man, I do love to get out on the water and catch fish.
The Iowa DNR has come up with an ingenious way to incentivize both the competitors and the just-leave-me-alone-and-let-me-fish types like me to get out on Iowa's waters. It's called the Hook n' Paddle Passport and it turns kayak fishing into a game. Here's how it works:
First, you sign up for the Passport through the mobile-exclusive website. There's no app to download, it works through your mobile web browser. It's free and you can find it through the DNR's website.
Next, you take your canoe or kayak out to any of 90-plus participating locations around the state and check in via the Passport site on your phone. Each time you do, you earn points which can then be redeemed for prizes. It's like an arcade, but one where you paddle and fish and aren't inside in front of screens.
Each check in from May 1 to August 31 of this year earns you 100 points. You can earn 200 points for attending a sponsored paddling or fishing event. Those are listed on the DNR website, and we have one scheduled at Big Hollow Recreation Area on June 24 from 9:00 AM until noon.
Even if you can't attend that event, you can still get your 100 points for fishing on Big Hollow anytime before the end of August since Big Hollow is one of the Passport locations.
Other Passport locations in the region include Lake Geode in Henry County, Deep Lakes in Muscatine County, Lake Sugema in Van Buren County, and Lake Darling in Washington County.
What do you get for all the points you're going to rack up?
At 300 points, you get a Fish Iowa! water bottle or hat or one entry into a grand prize sweepstakes drawing with a chance to win a kayak, paddle, life jacket and dry bag.
At 600 points, you can get a dry bag or stocked mini tackle box.
At 1000 points, you get to choose one of two Zebco fishing poles.
Paddling (kayaking and canoeing) has grown increasingly popular in the last several years, driven in part by the pandemic which drove participation increases in nearly every outdoor recreation activity. Kayaks are fairly inexpensive, easy to transport, and can be used on nearly any kind of water from small ponds to larger lakes to rivers. Iowa offers an abundance of paddling locations, with some rivers being state-designated and developed as water trails complete with easily accessible launches, distance and location signage, and digital mapping applications to help paddlers navigate.
The Iowa DNR even offers paddling courses both online (for free) and in-person.
Locally, paddling has become so popular that it's not uncommon to see 50 or more paddlers on Big Hollow Lake on a given Saturday afternoon in the summer. The Skunk, Des Moines, and Iowa Rivers are also popular paddling destinations with local conservation departments, us included, hosting various paddling programs on them annually.
Kayaks are available to rent at Big Hollow Lake in Des Moines County and at Pollmiller Park in Lee County.
For more information on the Iowa DNR Hook n' Paddle Passport, visit www.IowaDNR.gov/Things-to-Do/Ready-to-Kayak-Fish or simply search "Iowa Hook and Paddle" through your mobile device.
published Friday, June 9, 2023
More Blogs