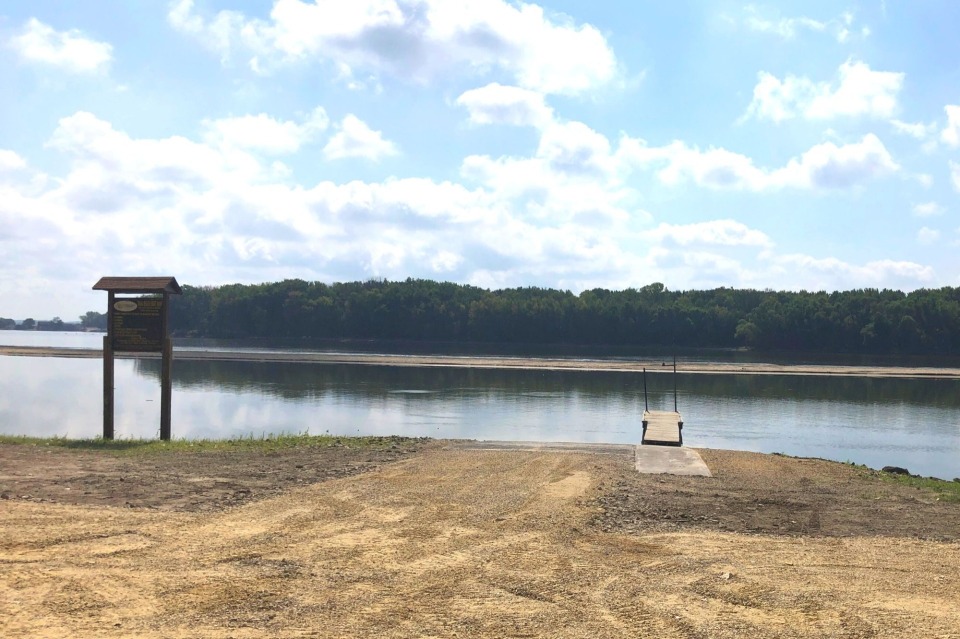 Tama Beach River Access is Des Moines County Conservation's second of two ramps accessing Mississippi River Pool 19. It lies about 4 miles north of Burlington, just off Tama Road. It features a gravel parking lot and concrete boat ramp between the levee and the river. DMCC provides a boat dock during the summer and fall boating season when river levels at Burlington are below 9.5'. Due to its low elevation, the ramp is inaccessible at Burlington river stages above 10.5 feet.
3 acres
Boat ramp
Accessible only when Mississippi River stage at Burlington is less than 10.5 feet.
Rules
No camping
No loitering
No fires
No littering
Docks are for loading/unloading only
Keep all vehicles on roadways or designated parking areas
Do not obstruct access to ramp
History
In July 1964, the Des Moines County Conservation Board entered into a 25-year management agreement with the State Conservation Commission (now the Iowa DNR). This area, located in Tama Township, was developed into a boat launching ramp with a parking area to provide citizens with access to the Mississippi River. This 25-year agreement was renewed with the Department of Natural Resources in October, 2015.
This area lies adjacent to the unincorporated settlement of Tama Town or Hoochtown, as it was known in prohibition days.
The bluffs bordering the Mississippi at Sho-quo-quon or Flint Hills were adjacent to a place of importance to the Indians because of the rich deposits of flint. This was neutral ground, where Indians from many tribes came for the raw material for their weapons and tools.
In 1808, Colonel J.W Johnson, an agent of American Fur Co., established a trading post at the mouth of what is now Flint Creek, just below Tama Beach. The post was destroyed by fire in 1812. There followed a period of Indian occupation in 1920 when Chief Tama came here from Henderson Creek in Illinois. After a short time, he moved on to the prairie north of Burlington, to a place now known as Tama Town Prairie. Chief Tama, a friend of white men, gave his name to Tama County, Tama Township, and the Town of Tama. A memorial marker, 3 miles north of Burlington on the Great River Road (Highway 99), has been placed near Chief Tama's burial plot.
Location
From DMC Highway 99, take Tama Road approximately 4 miles. Turn in and cross the levee at the sign.
13518 Tama Rd.
Burlington, IA 52601
Map · Tama Beach River Access