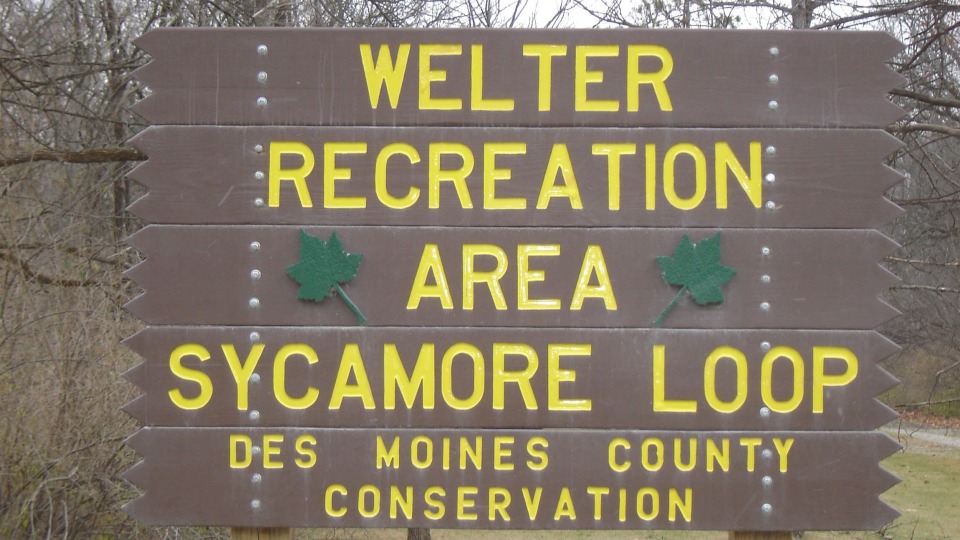 Located along the quiet banks of the Skunk River, Welter Recreation Area is Des Moines County Conservation's southernmost Recreation Area. It has been developed primarily as a camping destination and is popular among picnickers, RVers, tent campers, and boaters.
Welter Recreation Area actually consists of three separate loops: Sycamore, Maple, and Cottonwood Loops, the entrances of which are all found along Skunk River Road. Because the loops span a 2.5 mile stretch of the Skunk River, Welter Recreation Area is also a popular launching/unloading point for float groups, canoes and kayaks.
The campgrounds only take up a small portion of the overall area which consists of 63 acres spanning between Sycamore and Maple loop, and from Skunk River Road to the river. Above Augusta, Cottonwood Loop resides on additional 16 acre corridor between Skunk River Road and the river. Both sites are open to public hunting outside of the camping season.
Welter Recreation Area offers the following amenities.:
79 total acres (63 acre tract below Augusta, 16 acre tract above)
Three separate areas
Central water
Central RV dump station
Picnic shelters
Horseshoe pit
Volleyball court
Restrooms
Boat ramp
Camping Rates
Electric sites: $20 per night
Non-electric sites: $10/night
Note: All campsites at this park are first-come, first-served. Campsites may not be reserved in advance.
Rules
All campers must self register
Maximum length of stay is fourteen (14) days
All pets must be on a leash
Fires permitted only in containers provided
Do not remove or deface natural features or park structures
No littering
No ATV's, snowmobiles, or horses
Keep all vehicles on roads or designated parking areas
Quiet hours: 10:30 p.m. - 6:00 a.m.
History
In June, 1964, this area was acquired under a 25-year management agreement with the Iowa Conservation Commission (now the Iowa DNR). This area was then developed into 3 "areas" to provide camping facilities. The management agreement was renewed with the Department of Natural Resources in February, 1990 for a 25-year period. The agreement was subsequently renewed in 2015 and runs through 2040.
Augusta is situated in a small pocket in the hills along the Skunk River. The first of the European settlers in the area was John Whittaker who located at Flint Hills (Burlington) in 1832, but he and other settlers were driven back across the Mississippi River by Indians. With the Black Hawk Purchase, settlers could legally return to the Iowa side and Whittaker staked a claim near the site of Augusta where he built a log cabin. He later built a stone house, parts of which can still be seen. He also selected a site for a dam on the Skunk River, but sold it in 1835. Levi Moffitt then built a mill-one of the first in Iowa. Part of the rock dam for the mill can still be seen at the site when the river is low. One of the stone burrs from Moffitt's Mill has been used as a base for the fountain in the Shakespeare Garden in Crapo Park. At one time, Augusta was expected to become an important town, but plans for a railroad did not materialize and the town gradually declined.
After this area was taken over by the DMCCB, intensive tree and shrub planting occurred. Facilities were constructed to enhance the use of the areas.
Rathbun Regional water was installed in June, 1992.
Park Features
Cottonwood Loop
Maple Loop
Sycamore Loop
Park Hours
6:00 a.m. to 10:30 p.m.
Location
Seven miles south of Burlington on Highway 61, turn west/northwest onto Skunk River Road The first area (Sycamore Loop) is approximately 3.5 miles from the highway.
Map · Welter Recreation Area