Starr's Cave Park and Preserve
Starr's Cave Park and Preserve is a 184-acre state nature preserve and park area owned by the Iowa Department of Natural Resources and managed by Des Moines County Conservation.
The area features two miles of scenic hiking trails, a segment of the Flint River Trail, and is a place rich with natural and cultural history.
It is also home to Starr's Cave Nature Center, the headquarters of Des Moines County Conservation's award-winning Environmental Education Program.
Rock formations along Flint Creek in Starr's Cave Park and Preserve are found nowhere else in the world. The bluffs are composed of limestone and dolomite and contain hints of the area's past, frozen in time as fossils. These fossils include brachiopods, crinoids, cup coral, and gastropods.
Besides Starr's Cave itself (which is closed indefinitely to protect bats, see below), there are two other caves: Devil's Kitchen and Crinoid Cavern (see map in photo gallery). Unlike Starr's Cave, these two were not formed naturally but instead are manmade. Word has it that mineral prospectors were looking for zinc back in the 1920s. To see what lay behind the surface, they blasted the rock with dynamite, creating large openings for future park explorers to marvel at and explore.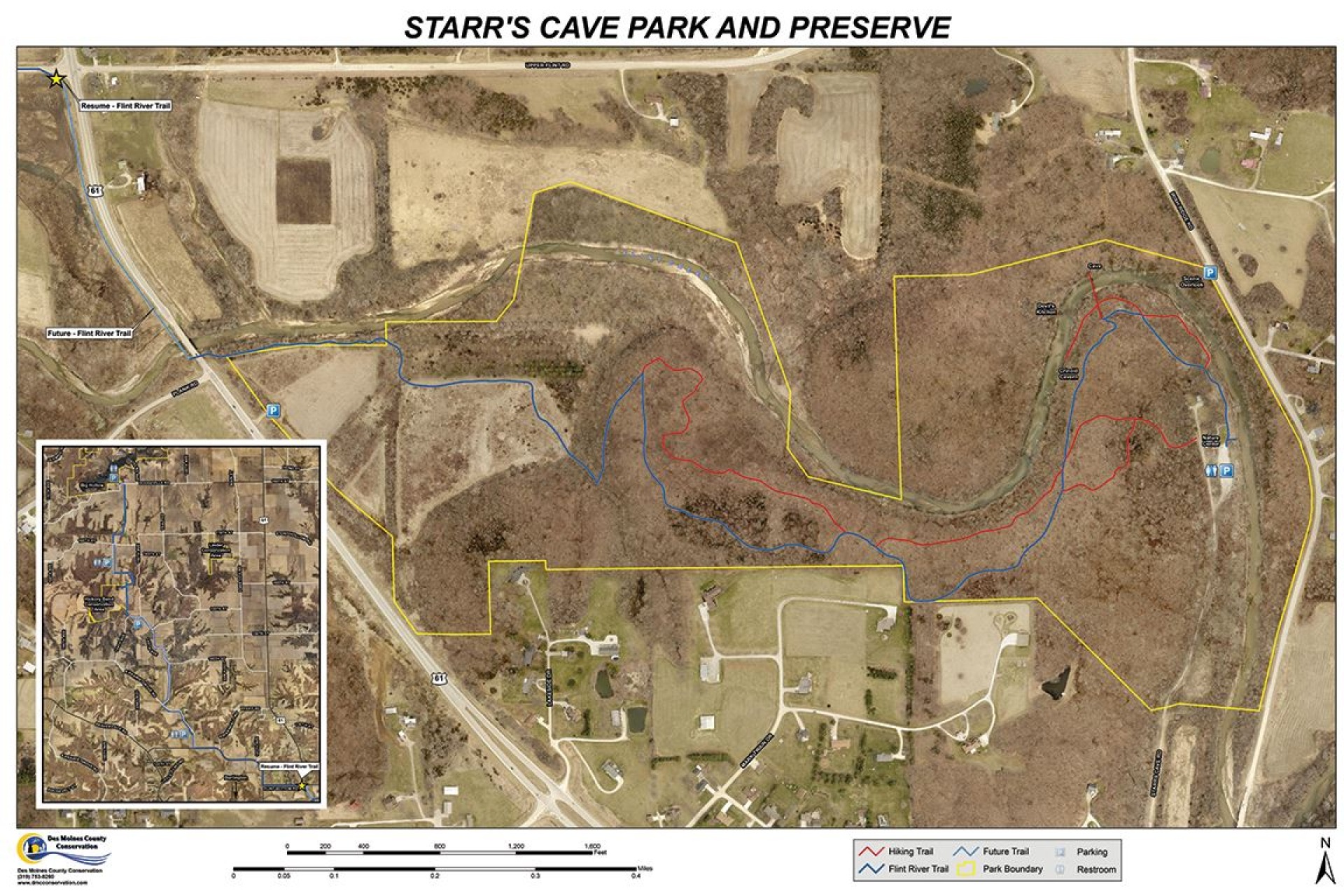 Rules for the Preserve Area
The preserve is intended only for visitor observation and other passive recreation.
The preserve is open to casual visitors, organized groups, and research visitors. Research permission must be secured in advance from the State Preserves Board and Des Moines County Conservation.
Visitor activities are limited to walking and observing. Visitors may traverse anywhere on the preserve without special permission from the Board, providing they stay on marked trails and do not disturb the preserve beyond the limit it can support without permanent deterioration.
Park hours are 6 a.m. to 10:30 p.m.
No hunting or trapping
No fishing
Rock climbing on cliffs is dangerous and illegal
Pets must be leashed
Fires in grill or fire ring only
No collection or destruction of plants, mushrooms, animals, fossils, rocks, or artifacts
No motorized vehicles on or off trails
Cross-country skiing is allowed when there is 4" or more of snow on the trails
No littering or defacing natural features or park property
Report all accidents to Des Moines County Conservation at 319-753-8260
About Starr's Cave Starr's Cave Facebook
Park Features
Starr's Cave Nature Center
Park Hours
6:00 a.m. to 10:30 p.m.
Location
From Highway 61, take Sunnyside Avenue or Upper Flint Road to Irish Ridge Road. Follow signs to Starr's Cave Road. Nature Center is at the end.
11627 Starr's Cave Rd.
Burlington, IA 52601
Map · Starr's Cave Park and Preserve