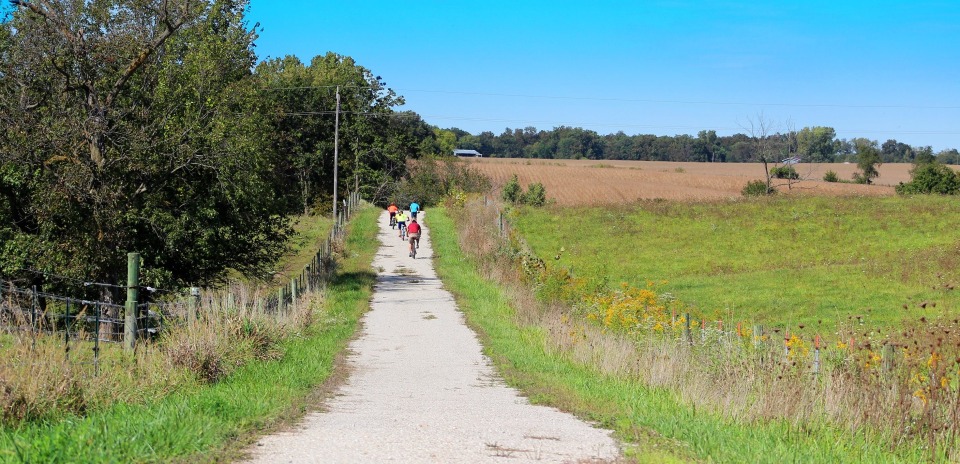 About
Portions of the Flint River Trail are still in planning/construction phases. On the county side, a seven-mile section extending from Flint Bottom Road to Big Hollow was officially opened to the public in October 2013.
Map of North Section of the Flint River Trail
On the city side, the trail extends from the Port of Burlington to Mill Dam Road near the Leopold Recreation Area.
Once complete, the hiking/bicycle trail will be approximately 20 miles and will extend from downtown Burlington to Big Hollow Recreation Area. It will connect the Mississippi River Trail, downtown Burlington, the Port of Burlington, Riverside Park, Starr's Cave Park and Preserve, Hickory Bend Recreation Area, Historic Zion School, and Big Hollow Recreation Area through the Flint River Valley. The trail will be primarily separated from roadways for the safety and enjoyment of the users.
Completion of the trail will require significant community investment. To help make the trail a reality, consider donating.
Project Background
This project began as part of the Great River Gateway Vision Iowa project, which is providing funding for improvements to City of Burlington and Des Moines County community and tourism attractions - including Big Hollow Recreation Area, Burlington Public Library, Des Moines County Heritage Center, Burlington Memorial Auditorium, Burlington Bees baseball (Community Field) and the Flint River Trail. The City of Burlington and Des Moines County have been working cooperatively to complete all of these projects, including the Flint River Trail.
Rules
Use the trail at your own risk; the County is not responsible for accidents or injuries. Trail may be slippery or blocked by debris.
Trail is open from sunrise to sunset.
Stay on the trail. No trespassing onto adjacent private property.
Keep pets on a leash. Clean up after your pet.
Respect other trail users by sharing the trail, passing on the left, and using bell or voice prior to passing.
The following are prohibited on the trail:

Motorized vehicles (except those for ADA compliance) and horses.
Littering, vandalism, or theft
Alcoholic beverages
Fires and grills
Loud noise or music
Park Hours
Sunrise to Sunset